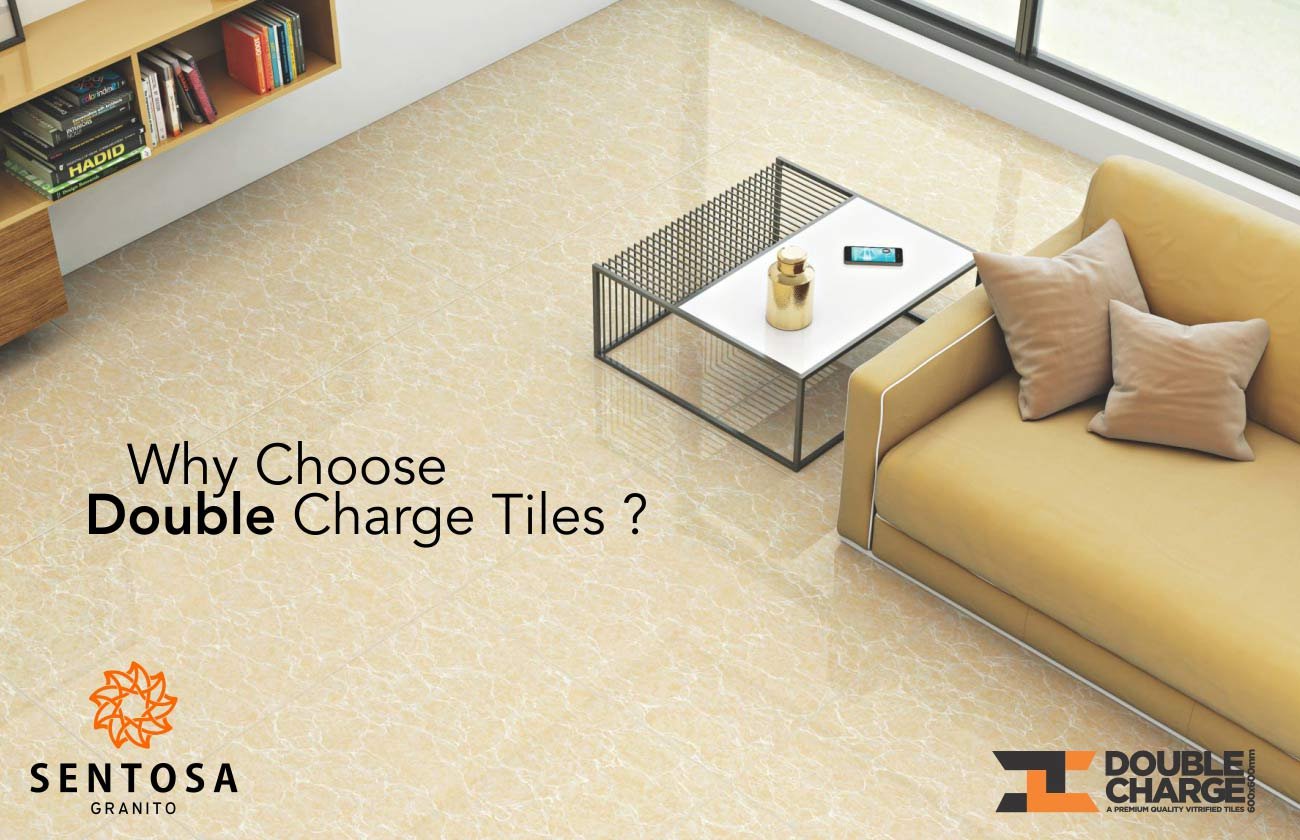 Why Choose Double Charge Tiles?
If you are building new house, you are professional Builder or just want to renovate you house with new types of flooring, you can have plethora of options to choose from. For your material search, you can check our blog.
But one the cheapest way is floor tiles. And there is plethora of tiles in the market. For novice in this domain, this many options seems daunting to you. This Blog is not about comparing each type of floor tile though, rather about why Double is advantageous to others. To prove my point I have compared Double Charge with other types of tile. And this would give you fair idea about other options as well.
Upper layer of Double Charge is very thick (Around 30% to 50% of total thickness of Tile), which makes surface much stronger when it compares to GVT and PGVT. Because GVT and PGVT has only 1 to 2 mm of glazed layer and on that glazed designs is digitally printed. While in Double Charge Design is part of body, not print on surface. This is like to choose two type of Fabric: one has design printed on it and another has design woven with thread itself.
Harder things can scratch softer things. This is simple Physics. Hardness is measured in Moh. Double Charge's Moh is higher than that of PGVT. Apart from that When hard and sharp thing scratches surface of Double Charge, the colour body does much better job hiding scratch from view. This is possible because Design is part of Body in Double Charge. But in PGVT and GVT design layer is so than that it not only fragile but also different than lower body which makes scratch very noticeable. Only Full Body Vitrified Tiles is better in point because it colours are in its full body: from top to bottom but it is very costly compared to Double Charge.
When it comes to strength not any other vitrified tiles come near Double Charge. It is strongest of all. It is even stronger than Full Body Vitrified Tiles. If you want that your floor last longer then look no further than double charge.
Double Charge is made to last, it is premium kind of Vitrified Tiles. GVT and PGVT are just for Beauty but for long lasting purpose always choose Double Charge.
Cost is higher than GVT and PGVT but lower than Full Body. So cost-performance wise Double Charge is Perfect combination of Beauty and strength.